Our Clinic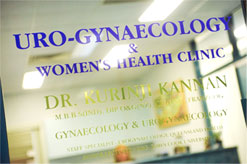 We are a specialist medical practice and we provide Urogynaecology, Gynaecology and Obstetric services. Our specialist, Dr Kurinji Kannan, is an Obstetrician and Gynaecologist and a qualified Urogynaecologist.
Dr Kannan is among a very small group of women in Australia and New Zealand to achieve a sub-specialty certification in Urogynaecology.
In our clinic, we take time to listen to your concerns and help you understand your condition, whether it is your pregnancy or a women's health related medical condition(s).
We understand that some of the conditions like urinary incontinence and vaginal or pelvic organ prolapse can affect your qualify of life. We strive to keep up with the scientific developments by actively engaging in research, teaching and training to ensure the quality of service and standards of care provided to you.
The clinic is conveniently located at Suite 2E at the Lister House, on 9-13 Bayswater Rd, Hyde Park. You will find us on the upper level among the specialist medical suites.
The Medical Centre has several other medical services such as X-rays, pathology labs in its premises and is in close proximity to Mater Women's and Children's Hospital at Hyde Park where Dr Kannan delivers babies and provides surgical services.